Munich varifocals glasses with progressive lensens
---
There is now a large selection of spectacle lenses. That's why we work together with all well-known lens manufacturers. However, the new DN-Eye optimised lenses from Rodenstock offer you a completely new visual experience.
It is our concern to determine the best lens for your application. Using the latest computer technology, we can also perform a 3 D thickness calculation of your spectacle lenses.
This enables us to adapt the progressive glasses or progressive lenses optimally to your needs.
NEW: The perfect Rodenstock eyeglass lens with DNEye® for better progressive lenses
Munich progressive eyewear Now you can fully exploit your personal visual potential.
With the new spectacle lenses from Rodenstock with DNEye optimisation you can use your maximum vision. With the DNEye® scanner we can measure your eye individually at 1000 measuring points and determine the imaging errors. Thus the lenses are adapted to the "individual fingerprint of your eyes" – as unique as the DNA. From these data we determine the perfect lens for you for an even more precise visual impression.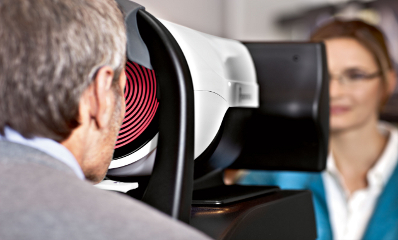 Progressive lenses or multifocal spectacles must be measured precisely in order to obtain the largest and most optimal field of vision possible.
That's your way for an optimal vision:

Step 1: Personal conversation
In a personal conversation we determine which requirements and wishes you have for your new glasses: e.g. how important is screen work, whether you read a lot but also if and which problems occur when seeing?

Step 2: Measuring with the Rodenstock DNEye® Scanner
Each eye is individual. Your eyes are measured with the new DNEye® scanner so that you can fully exploit your 100% of the visual potential. In this way, even the smallest deviations in the eye are taken into account.

Step 3: Eye test
Your individual lens values are then determined by our master opticians with the help of a vision test.

Step 4: Individual near vision test
Besides, we perform an additional measurement: an individual near vision test.

Step 5: The frame consultation
We consider your individual ametropia with regard to the shape, size and type of your new glasses and advise you on the appearance and fit of the glasses.

Step 6: Video centering
The video centering system "Visureal" offers an optimal measuring system to center your lenses exactly.
During video centering, a photo of you is taken and the centering data is automatically determined.

Step 7: The lens consultation
In addition to all measured and determined data, we recommend the optimal lenses for you.
The result:
A completely new sense of sight that pays off: With the new DNEye® technology, far more data is collected, which is incorporated into the manufacture of your individual spectacle lenses. In this way, you can exploit your personal visual potential to 100%.
Your advantages at a glance:
o Maximum vision through 100 % exhaustion of the individual visual potential
o Comprehensive, individual analysis of the entire visual system, consisting of glasses and eye
o sharpest and highest-contrast vision, especially at twilight
o Maximum comfort
o Immediately optimal compatibility
o Highest brand quality from Rodenstock
We are happy to take our time and give you detailed advice on the subject of multifocals and video centering.
Are you interested?
We look forward to making an appointment under: 089 – 555592
City Optik Munich contact lenses hearing aids
Sonnenstr. 4
80331 Munich, Germany
Phone: 089 – 555592